""Fake news" wasn't invented with the Trump presidency; it's been around a long time. Newspaper publishers Joseph Pulitzer (St. Louis Post-Dispatch and the New York World) and William Hearst (publisher of the largest chain of American newspapers in the late-19th century) competed for readers through sensationalism, rumors, and falsehoods – a practice that became known as "yellow journalism." Their incredulous "news stories" actually played a role in leading the U.S. into the 1898 Spanish-American War.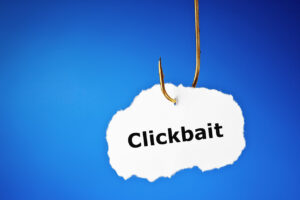 Now we have "Clickbait," those digital headlines designed to ensnare and engage us with their outrageous claims. Each time we peruse the internet or social media, we take in public health guidance, fact sheets, infographics, research, opinions, rumors, myths, falsehoods, fiction, non-fiction, and more.
The World Health Organization and the United Nations have dubbed this unprecedented information overload an "infodemic" and it's raging in the health-related arena. Misinformation and disinformation are rampant on internet-based health-information websites, especially those attached to celebrity spokespersons.
Misinformation is defined as false content shared without intent to cause harm; disinformation is defined as false information knowingly created and shared that often causes harm. While health information is easy to find, reliable health information is far more elusive. It is not easy to distinguish between reliable information, misinformation, or disinformation. Below, I briefly review some general principles of how to evaluate internet-based health information. I hope this can help you find accurate information you can use to Health Yourself."
Read more and info links at >Evaluating health information, misinformation, and disinformation | Michigan Today
Federal Trade Commission Consumer Health Information
Learn how to decode ads for products that may over-promise cures and results"
MedlinePlus Health Fraud
Focuses on health fraud resources and tips on where to report fraud cases
National Council Against Health Fraud
Nonprofit health agency focusing on health misinformation, fraud, and links to publications, position papers, and more
A Community Toolkit for Addressing Health Misinformation
Comprehensive web portal from the Surgeon General's office
Evaluating Internet Health Information: A Tutorial from the National Library of Medicine
Interactive consumer tutorial from the National Library of Medicine
Finding and Evaluating Online Resources
From the National Center for Complementary and Integrative Health (also in Spanish)
Health Information on the Web: Finding Reliable Information
Trusted medical advice from the American Academy of Family Physicians (also in Spanish)
Health Literacy: MedlinePlus Health Topic
From the National Library of Medicine, (also in Spanish)
Understanding Health Risks: Improve Your Chances for Good Health
A monthly newsletter from the National Institutes of Health
Diet in the News — What to Believe?
Reliable information from Harvard's School of Public Health
Cancer Information on the Internet
From the American Cancer Society
Reliable Health Information Online
From the National Human Genome Research Institute
Cancer Resources You Can Trust
From the National Cancer Institute, (also in Spanish)
Know the Science: The Facts about Health News Stories
From the National Center for Complementary and Integrative Health
Online Health Information: Is It Reliable?
From the National Institute on Aging (also in Spanish)
Blue Zones
How to apply research from the world's longest-lived cultures, excellent resource
Food Politics
From Marion Nestle, leading expert on nutrition research, excellent resource
NutritionFacts.org
From Michael Greger, M.D., leading medical expert in the health and nutrition field; includes health and nutrition topics with new videos and articles uploaded almost every day. It's an excellent resource.